This last week was my work place's pot luck, and I was scratched my head throughout the week on what to bring. What would be delicious, and light enough for the summer heatwave we've had. I walked through our town's local farmer's market on my way home from work on Tuesday and found my answer.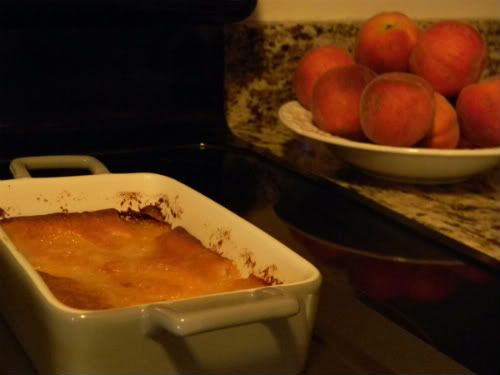 Peach Cobbler.


What other dessert is mouthwatering, yet is light enough not to make you pass out right afterwards? Can't promise it not causing you to pass out if you eat the whole pan, but it's tempting. This recipe I use is from my family, and is a favorite.. And has become a favorite at work.
My boss even said he'd give me a promotion if I brought it in again. A girl can dream.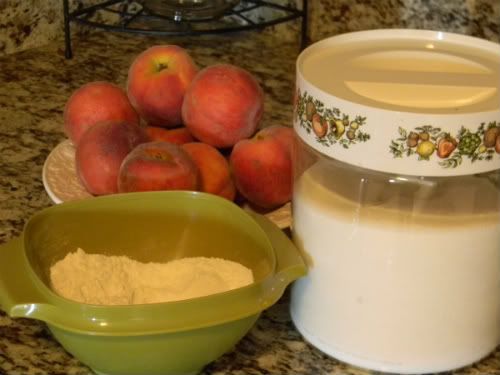 It's a basic recipe. Flour, baking powder, salt, sugar, and peaches. Easy, as well. How with those peach peels?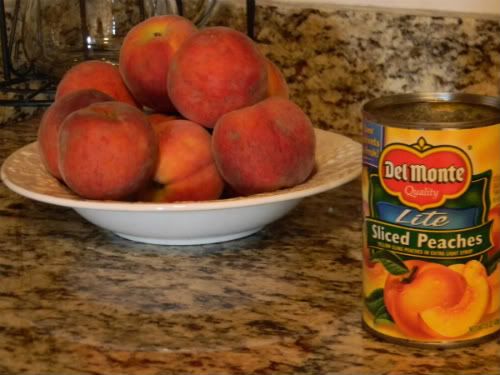 Go on. Gasp in horror. Glare and move your curser closer to the back button. I dare you, but I will tell you this is how to make a good peach cobbler. You know your peaches will be full of flavor, won't be hard as rock, and the syrup from the canned peaches helps give it that creamy, melt in your mouth texture.
That's right. Move your cursor back to the scroll bar. Peach cobbler can taste good AND not make you slave over peels.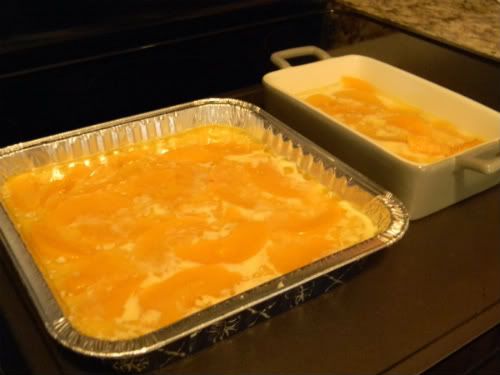 Before..



..During..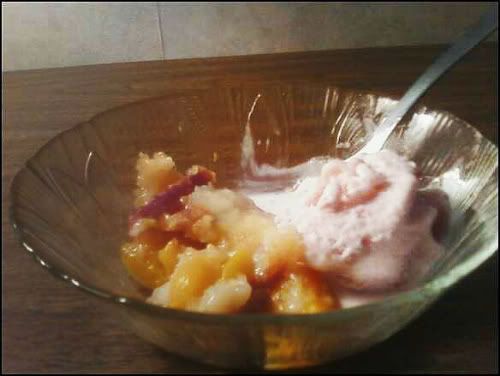 After. Did you know Peach Cobbler goes well with strawberry ice cream? Try it. You won't be sorry.
Now, take your unbelieving eyes away from the screen and give it a try. The pictures aren't deceiving. It's that good and could possibly get you your own promotion.
Easy as Peach Cobbler
1/2 cup Butter
1 cup Sugar
1 cup All Purpose Flour
1 1/2 tsp Baking Powder
1/8 tsp Salt
1 cup Milk (2% or whole recommended
DO IT
)
2 15 oz. cans Peaches Halves with light syrup (or heavy if you're feeling it)
1. Preheat your oven to 350°. While its preheating you can stick your 13 x 9" pan in with the butter inside. Let that melt while you work on the labor intensive part of the recipe.
2. Well combine the sugar, flour, baking powder, and salt in a large bowl. Add the milk and stir again until it looks well combined without any lumps. Drain one of the can of peaches of it's syrup contents (and do with it what you like), pour the other can's syrup in with the milk. Mix once again.
3. Once your butter has melted (give it about 5-7 minutes), pull it out of the oven. Pour the flour mixture straight on top of the melted butter. After that, arrange your peach halves on top. Pour the peach syrup from the reserved can with the peaches added.
4. Place the pan back into the oven. Bake for 30 minutes, or until your peach cobbler has a nice golden brown top. Pull it out, and serve hot. It's better this way. Yes, it's still good if cooled, but you'll pat yourself on the back if you eat it hot with ice cream.
Easy, right? Give it a shot. I dare you.